FCICA is Proud to Bring our Members a Solution for Healthcare Coverage
The SALA Healthcare Program is brought to you by our sponsor, the Small Association Leadership Alliance (SALA). It is a proven alternative for members to consider for their healthcare.
The program has several components to choose from to customize your healthcare. When each component is brought together, the result is a unique and affordable option for your healthcare. The program components include:
Apex Preventative Care Plan that best fits your needs, family, and budget (2 Choices).
Add-on a Sedera membership for Medical Cost Sharing to be used for accidents, illness, and unforeseen medical needs.
Take advantage of Teladoc telemedicine for increased savings and services.
The comfort of 2nd.MD to ensure you and your family receive the most up-to-date medical treatment available.
RCI Dental through Aetna.
For more information, please contact SALA: (e) hpsupport@smallassociations.org | (p) 888-994-4979
WARNING: SEDERA, INC. IS NOT AN INSURANCE COMPANY AND THE SEDERA MEDICAL COST SHARING MEMBERSHIP IS NOT ISSUED OR OFFERED BY AN INSURANCE COMPANY. WHILE EVERY EFFORT IS MADE TO MEET MEMBER'S MEDICAL NEEDS, SEDERA, INC. AND THE SEDERA MEDICAL COST SHARING COMMUNITY DO NOT GUARANTEE PAYMENT OF ANY MEDICAL EXPENSE. Program Not Available in VT, AK, WA, IL, NY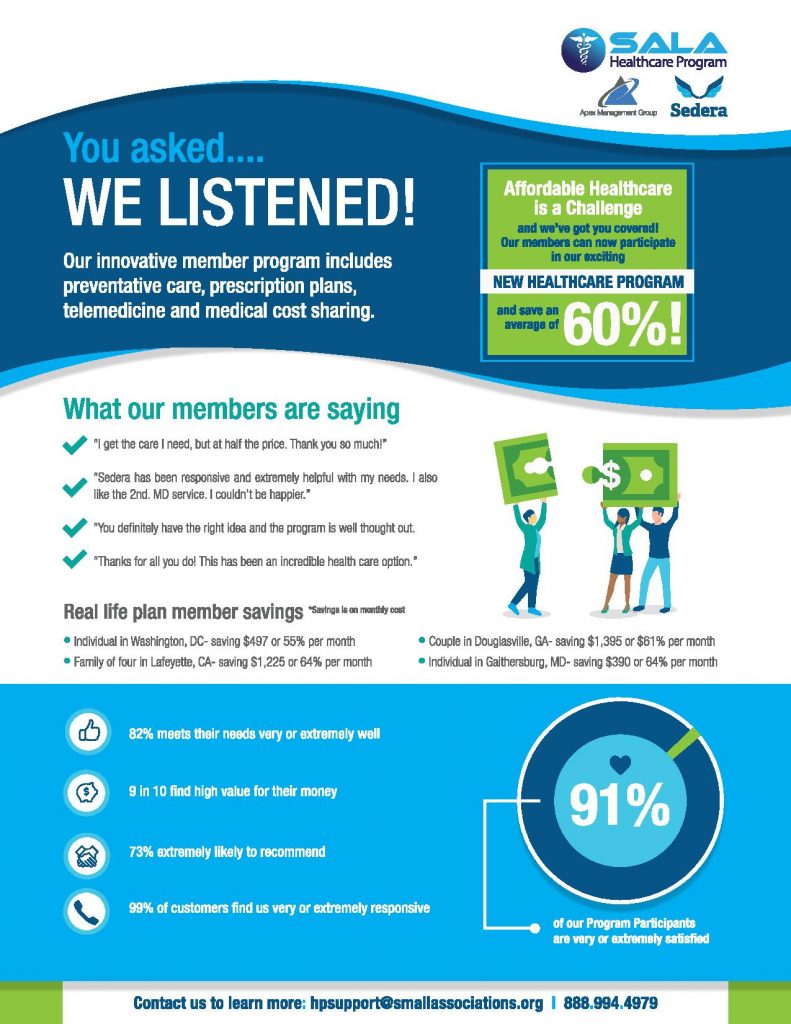 Learn about the FCICA Healthcare Program Components: