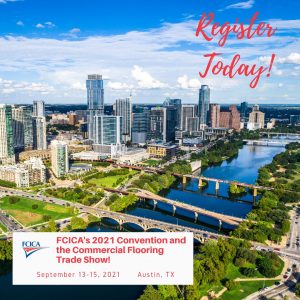 Thank you for attending the
2021 Annual Convention and Commercial Flooring Trade Show - Austin, TX
Monday - Wednesday, September 13 - 15, 2021
Expand your Knowledge - Find Solutions - Connect with the Flooring Community 
Connect with premier commercial flooring contractors, consultants and manufacturers - in person - at this annual event offering educational sessions, product demonstrations, the Commercial Flooring Trade Show and ample time to network.
Quick Links!
View the AT&T Hotel map - click here.
Final Schedule with Room Names - click here.
---
Attendee Registration Fees
Convention Attendee Registration (Members Only) - $944
Additional Company Attendee, CIM or Successor Reg (Members Only) - $744
1st Time Attendee Registration (Members Only) - $669 (For registrants who have never attended a FCICA event - 1st Time Attendee Registration)
Spouse/Companion Registration (Members Only) - $548 (Spouse/Companion registration includes all meals + drink breaks, September 13-15.Optional

events/activities and be purchased additionally.)

Non-Member Attendee Registration - $1,124
Contractor Trade Show Only Attendee Registration - $25
---
Trade Show Exhibitor Fees
Premier Trade Show Exhibitor (includes 1 attendee registration and booth plus marketing) $1,379.00
Trade Show Exhibitor (includes 1 attendee registration and booth) $1,054.00
---
Booking your flights? Be sure to arrive on Monday in time for a 1:00 pm optional Distillery Tour, and don't miss the opening reception that evening. Wednesday meetings will end at 4:30 pm, but be sure to stay for the FCICA 6th Street Stroll that evening.
---
To download the full Convention schedule - click here.
Monday, September 13 Highlights
Welcome Reception

Optional Distillery Tour
Tuesday, September 14 Highlights
Opening Session & Business Meeting

Membership Committee Meeting

CIM Steering Committee Meeting

Education Committee Meeting

Product Demos

Themed Dinner
Wednesday, September 15 Highlights
Associates Committee Meeting

Education Sessions

Product Demonstrations

Closing Event 6th Street Stroll
---
Participating Commercial Flooring Trade Show Exhibitors
Certified Flooring Installers International (CFI)
Floor Covering Education Foundation
SCHÖNOX HPS North America, Inc.
World Floor Covering Association
---
Cancelation Policy: No registration refunds after August 15, 2021 will be accepted. A 50% cancellation fee will apply to registration refunds requested prior to August 14, 2021. All cancellations must be made in writing. No refunds will be made for no-shows. Registration fees are not deductible as charitable contributions. Registration fees may be deductible as ordinary or necessary business expenses. Consult your tax advisor for more information.
Commercial Flooring Trade Show
Thank you Platinum Sponsors